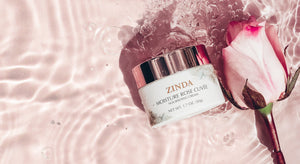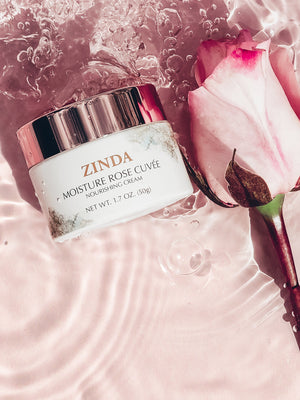 Get Luminous Skin
In An Instant
Moisture Rose Cuvée Deeply Nourishes For That Hydrated, All-Day-Glow Feeling
From The Vineyard To The Vanity
Inspired by the many health benefits found in wine from the lush vineyards growing in the South of France, Zinda Beauty introduces our debut, all-in-one revitalizing cream, Moisture Rose Cuvée, infused with our vine-sourced, patented technology, SalSphere® Resveratrol.

Zinda Beauty's Moisture Rose Cuvée
A Superfood For Your Skin
Just like you choose to nourish your body with healthy, organic, and non-toxic foods, Zinda Beauty created a clean, plant-based solution with everything you need to nourish the largest organ of the body, your skin. 
At the heart of Moisture Rose Cuvée is our patented SalSphere® Resveratrol, a potent, antioxidant and skin remedy, blended with four vitamin-packed botanicals; Grape Seed Oil, Rose Hip, Apricot and Evening Primrose, for visibly refreshed, healthy-looking skin that glows, at any age.
See Our Formula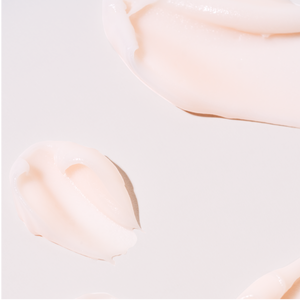 At Zinda Beauty,
We're Anti Anti-Aging
We focus less on turning back
the (inevitable) clock, and more on nurturing the overall
integrity, balance and vitality of your skin.

BECAUSE ALL SKIN IS BEAUTIFUL,
AND BEAUTY DOESN'T EXPIRE.
See Where We Stand
★★★★★

$58.00
An all-in-one nourishing cream that infuses skin
with all-day hydration, plus ultra-potent botanical benefits
for visibly refreshed, vibrant, and supple skin.
Experience The Power Of Moisture Rose Cuvée's Ultimate Botanical Blend
See Why Customers Are Calling Us "The Holy Grail" of Moisturizers
★★★★★

Became a holy grail in 48 hrs

This gorgeous Moisture Rose Cuvée is unlike any other moisturizer/cream I have put on my face. It's gentle enough for my very sensitive skin, yet the resveratrol is strong enough for me to confidently say I'm in love, it is officially a holy grail, my skin loves it, and it doesn't break out my acneic sensitive skin! The texture is lovely, bouncy yet thick and lightweight on the skin, almost indescribably divine. Highly recommend!!

Mila

Mila on Apr 01, 2021
★★★★★

So delicious on my skin! 

It feels so delicious on my skin! So far the best moisturizer I have ever loved during the winter when my skin gets so irritated and dry. Also, I really like the soft rose scent... a great plus!

Rita

Mar 13, 2021
★★★★★

Silky Smooth

Zinda Moisture Rose Cuvee is a wonderful face cream. It is silky smooth, smells fabulous and leaves the skin looking great. With so many face creams on the market it is hard to find one that is special, but Zinda Rose is special. After a few days of using it, your face will have a smooth soft glow. and feel and look terrific. Maybe it is the wine influence, but whatever it is, Zinda Rose is a home run and you will be very happy with this very special face cream.

Beverly Wayne 

 Jan 28, 2021
★★★★★

5 Star Product ⭐️

This is such a luxurious moisturizer! I was drawn to it by the highlighted ingredient list of Apricot, Evening Primrose, Rose Hip, and Grape Seed Oil. These do wonders for you skin. I use it morning and night. Highly recommend.

 Gabby B 

Dec 02, 2020
★★★★★

Hero Product

The Moisture Rise Cuvee is such a beautiful moisturizer! I have dry skin and have been using this product twice per day as the weather has transitioned from warm to cold. The Moisture Rose Cuvee has maintained my skin, providing hydration and nourishment during the colder months. Absolutely love it!

Charlotte 

Dec 07, 2020
★★★★★

Sensitive Skin Love the hydration 

After having my daughter my skin completely changed and became super sensitive and I was left with some serious melasma on my right cheek. My skincare routine typically includes a cleanser and a vitamin based serum and I live in dry weather environment so I need a ton of moisture to keep my skin nourished. I started adding this product to my routine 2 weeks ago and I am beyond thrilled. My skin looks great and I can see the discoloration on my cheek starting to fade we keep you posted. So lightweight but so hydrating and refreshing. A new must have in my skin care routine!

Nicole

Jan 22, 2021
★★★★★

Recommend for dehydrated skin

So far I love this cream! I'm noticing even when I'm dehydrated that I wake up with less fine lines and my skin is always more dewy and glowy. Beautiful product.

Laila Jaimes

Nov 27, 2020
The Zinda Beauty Standard
At Zinda Beauty, we believe innovation through sustainability is always worth it.
Our products are always:
We adhere to the strict EU guidelines for Clean Beauty.
We Say No to Parabens, Sulphates, Phthalates, Surfactants, BHT, BHA, Silicones, Synthetic Dyes and Synthetic Fragrances.

Our products are formulated in the USA using artisanal methods and paddle-mixed in small batches.