From the Vineyard
to the Vanity
WITH PATENTED SALSPHERE® TECHNOLOGY
How it Started
Caroline Levy, Zinda Beauty's founder, is a long-time lawyer, women's rights advocate, and lover of food, wine, and travel. In 2017, when visiting a vineyard in the South of France, Caroline began to notice that all the vegetation growing in and around the property was extremely rich and abundant.

Caroline began to research the local terroir, and found that the land there was so lush that people there had been crushing up the wildflowers into oils in an attempt at making their own skincare creams for decades. Caroline learned that not only did the wildflowers growing in and around the vineyards provide strong, botanical benefits, but the very properties found in her glass of red wine contained one of the most potent, plant-sourced skincare ingredients of all, Resveratrol.

Inspired by her findings and frustrated with the current lack of plant-sourced, vegan skincare promoting overall skin-health on the market, Caroline joined ranks with long-time friend, Dave Grudzinski, a fellow wine enthusiast with over 20 years of experience in product development, who's diligence in sourcing the highest quality raw ingredients connected the potency of the vineyard to the vanity. Together they embarked on a 3 year journey to perfect the debut hydrating cream featuring a patented, encapsulated Resveratrol blended with 4 key botanical extracts, Moisture Rose Cuvée.
Like Fine Bottle of Wine,
It Takes Time
Three years of product development
went into our first offering, Moisture Rose Cuvée,
to ensure the integrity of the ingredients
supporting the skin.

Artisanal Methods
Zinda Beauty's botanical-blend formulas
are sourced from Europe and Asia through farms
using responsible labor practices.

In the US, the formulas are created and
paddle-mixed in small batches.
Every jar reflects the
quality, time and care behind it.

Our SalSphere® Resveratrol
The Formula Behind Zinda Beauty
Zinda Beauty is like a superfood, but for your skin. To create a product that truly nourishes while helping to optimize the overall vitality of the skin, Zinda Beauty uses an encapsulated form of Resveratrol, a powerful, antioxidant found in the red grapes used to make wine.

Resveratrol protects skin cells from the harmful effects of environmental aggressors and helps brighten the look of skin, lock in moisture, and has a powerful capacity to reverse visible signs of damage.

How We Harness The Power of Resveratrol:
Our patented technology, SalSphere® Resveratrol is designed to increase stability, bio-availability, and overall efficacy. The structure of SalSphere® Resveratrol administers a delivery system of benefits in their most potent form, while adhering to the skin through a time-release technology.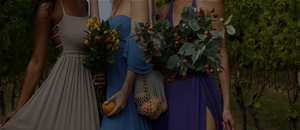 thoughtful formulations with
We blend each formula with a bounty of high-performance botanicals rich in all the vitamins and nutrients your skin needs to help stay supple, hydrated, and glowing, at any age.
The Zinda Beauty Standard
At Zinda Beauty, we believe innovation through sustainability is always worth it.
Our products are always:
We adhere to the strict EU guidelines for Clean Beauty.
We Say No to Parabens, Sulphates, Phthalates, Surfactants, BHT, BHA, Silicones, Synthetic Dyes and Synthetic Fragrances.

Our products are formulated in the USA using artisanal methods and paddle-mixed in small batches.